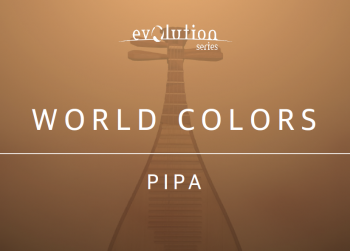 World Colors Pipa v1.0是Evolution Series还未发布出售的私有库
Articulation Boxes:
Located just below the Instrument header text are 3 centre boxes. Within each box you can choose and load an articulation. As there are 3 boxes you can load up to 3 articulations per preset 'slot'.
Articulation Box Threshold:
Located between the 3 Articulation Boxes is the sensitivity threshold. This adjusts the movement between the 3 boxes. For example if 'Vertical Mode' is set to 'Velocity' and your key pressure is between 0-80 (as in the picture) you will play back the lowest box, 81-109 you playback the middle box, and 110-127 you playback the top box.
Horizontal Mode:
Controls how to access the Preset 'Slots'. The most common mode is 'keyswitches' although you can use any other midi CC control move to between each slot.
Virtual Mode:
Controls how you move between the 'Articulation Boxes'. For example with it set to 'Velocity' you can use key pressure to playback
different 'Articulation Boxes'. Depending on how you like to work you can choose a different midi controller method.
Slots:
One 'slot' is essentially a preset of 3 'articulation boxes'. You can have up to 20 'slots'. The big grid in the middle of the interface represents how many 'slots' are being used and which one is selected at any given point in time.
KSW:
This allows you to set the starting note to map your group of 'keyswitches'. For example if set to C0 the first keyswitch will start at C0 and the rest will follow on chromatically.
Legato ON:
As an experiment we have added the wonderful SIPS script to provide a fake legato. This is more of a bonus feature but can be helpful for more melodic lines.
Semi:
Moves the whole instrument mapping in semitone steps.
Octave:
Moves the whole instrument mapping in octave steps.
NKS Support:
All Color instruments are NKS compatible. Please refer to your NKS hardware manual for more information.
Working with NI Kontakt Player v6.5.3 and higher!